100% Satisfaction Guaranteed & 100% Money Back Guarantee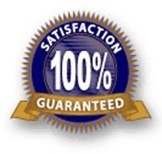 Use our Tax Prepration Service from home with the comfort of knowing that your order is backed by a 100% Money Back Guarantee. If you find anywhere else who can save you more money in preparing your tax return or gets you a bigger refund, your service will be completely FREE. We will return 100% of your money.
This 30-Day Guarantee gives you plenty of time to check your returns yourself or with the help of family and friends. To process the return contact us and let us know that you want your money back !!
No other Tax Preparation Service can provide such a Guarantee, so go on you have nothing to loose.