Company registration & Company formation in India
Company is a separate legal entity which is registered under the companies act. Every country is having different procedure of registration. We understand and appreciate that setting up of a Company is a life time decision of an entrepreneur and requires in depth strategic, business and legal considerations. Our dedicated team assists you in incorporating your company in a simple and economical way. We also assist those who are already into business as a proprietorship or a registered partnership firm or an LLP to convert their structure into a Private Limited Company.
Here's what to expect when you incorporate with eLagaan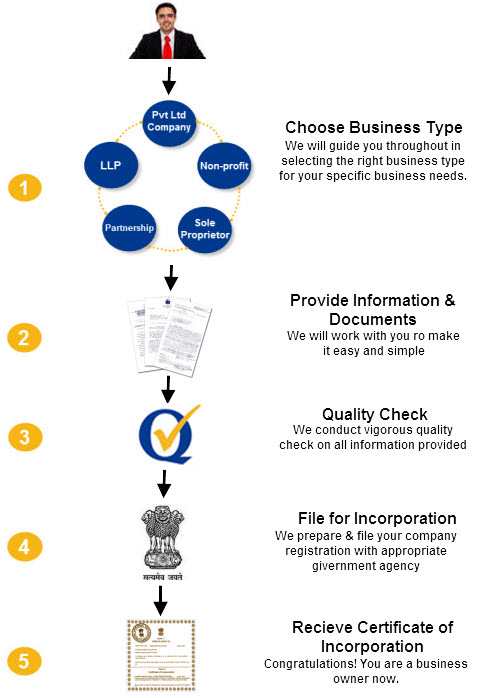 Estimate the price of starting your business
This is an Estimate of cost for starting a business. Please note that price varies due to factors below.
Stamp Duties
Government Fees
Digital Signature, if needed


(2 year validity, 1 with USB token, others without USB token)


[required for all Designated Partners]
Admin, Legal & Miscellaneous Expenses
eLagaan Service Fees
Total
*Note: Sole Proprietorship Business donot need any registration. The above estimates are for getting a service tax registration for the Proprietorship Business. If you are looking for some other license, the fees may vary accordingly




---



Description
C-Corp
LLC
USD
INR
USD
INR
State Fees
eLagaan Service Fees
Total

Note: For INR payments, Service tax will be extra, as applicable
We are one of the company registration service provider in India that can provide a fast efficient company registration service at affordable price, which suits your the requirements and expectations completely in India & across the globe.

Whether you are just starting your business or have been operating as a sole proprietorship or general partnership, you may be wondering about the benefits of incorporating your business as a limited liability partnership (LLP).

Other Business Types

NGO / Trust / Section 25 Companies

Resources
="text-align: center; ">

Why choose eLagaan for registering your company?
Whether you're just incorporating a business or learning your options, eLagaan is ready to help you set up your company and stay compliant over time.
Experts @ Job

eLagaan uses best Chartered Accountants & Company Secretaries having immense experience over the subject. They will guide you through business cycle to ensure that you are investor ready & your personal assets are safeguarded for corporate liabilities.




Transparent Pricing

We believe in being upfront about the cost so there are no surprises at the end. There are no hidden costs what-so-ever. What you see while ordering is what you pay till the order is complete.

We support your learning process

Our comprehensive online tools and resources will help you understand your options. Also watch videos of budding entrepreneurs and learn from them.

Simple & Easy process

We have simplified the complete process to accommodate wide range of requirements and register a company in quickest possible time.

1000's of satisfied customers

eLagaan is the fastest growing company in this space. We have already cross 1000's fully satisfied customers worldwide including Bangalore, Hyderabad, Singapore, Malaysia, USA, etc.

End to End solution

We do not just help you start your dreams, but also support you in all future needs related to finance, compliances and other legal requirements making us your ideal partner.

Customer Buzz (what customers are saying)
I keep engaging with eLagaan primarily because of the impartial and prudent advise, followed up with service that matches with the price point.

Amarinder Singh, Entrepreneur, Co-nurturer at OCC, Bangalore

Incorporating my company with eLagaan was simple and easy. I didn't had to worry about any aspect and everything was handled very smoothly by eLagaan. Overall it was great interacting and working with them.

Jitender Sharan, Founder, CEO CipherGraph Networks

I found eLagaan team to be very responsive and approachable. They helped in every step and guided us on various aspects of incorporation like what type of company to setup, how to structure the business, what licenses shall be needed to run my business etc. I am very happy with their services.

Tarkeshwar Thakur, Co-founder, Chatimity software Private Limited

eLagaan took care of all the details and i didnt had to worry about or run around for anything. They advised on what business type to choose and also on the authorized capital I should look at, which came as a great help. It was very smooth & highly recommended. I keep recommending all my friends to eLagaan for company registration.

Praveen Singh, Director, 99 Tests software Pvt Ltd.
Who is talking about eLagaan